When you leave Altamont, you might be tempted to cross main road and get something to eat at delightful Forge restaurant. Our route takes left turn at crossroads and heads for Clonegal, perhaps most delightful of all villages that we pass through. Its wide streets and neat houses wander up and down steep hills. In center are two well-loved and tended gardens, each with objects well worth stopping to look at. There is a sculptured goat, constructed from wire mesh, in one. In other a great iron cauldron is preserved: it was used to make soup to feed starving people in Famine. The Slaney runs by at bottom of hill. Just before bridge, on right, are gardens and parkland that surround Huntington Castle. Approached by a magnificent avenue of lime trees, this splendid building has dominated scene since 1625 and stands on site of an even older fortress, commanding crossing of river. A comfortable family home for three and a half centuries, its rooms contain a wonderful collection of trophies, works of art and fine furniture, to say nothing of an Egyptian temple instituted in 1976. Tea and guided tours are on offer from June through August.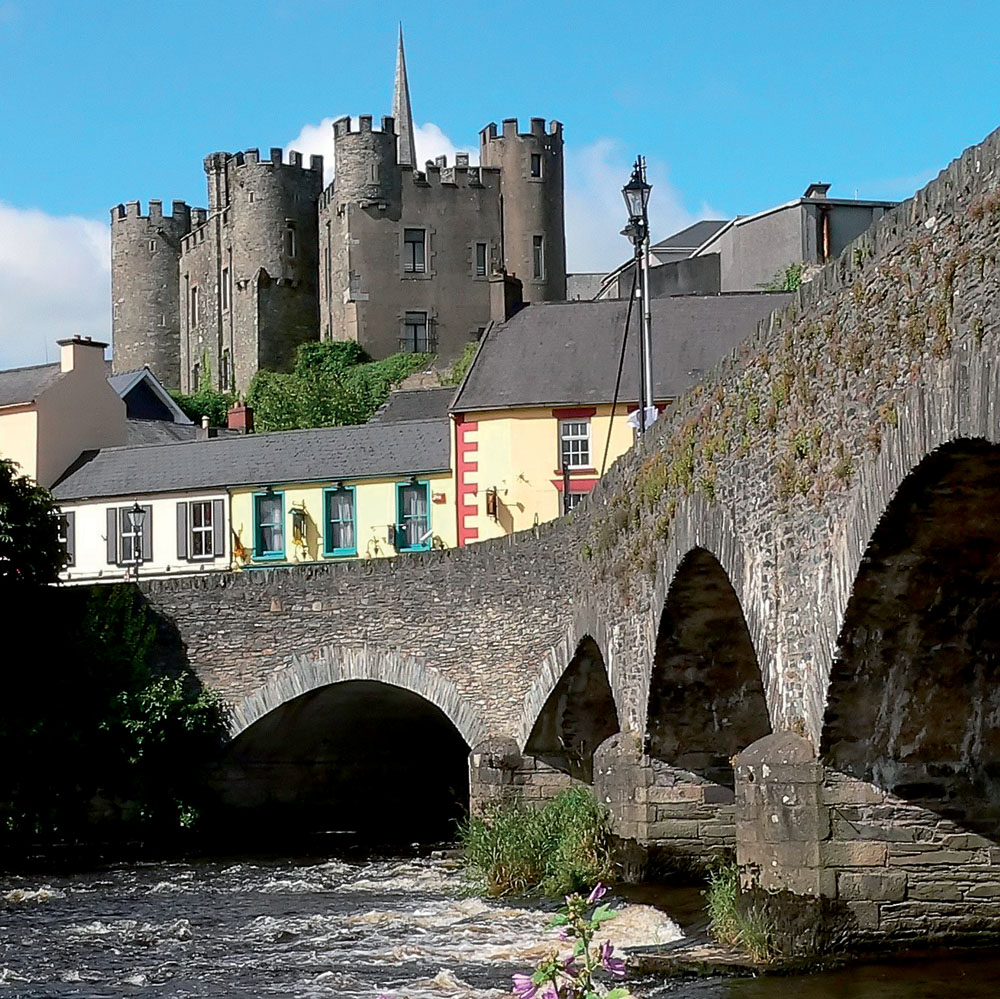 Signposts from Clonegal lead you to Bunclody and then to Enniscorthy. The road after Bunclody runs beside Slaney where it flows between green watermeadows, backed by woodland. Enniscorthy, where river meets tide and which once was an inland seaport, is our final destination. The road beyond it, along tidal river takes you to Ferrycarrig and town of Wexford where we wandered not very long ago,in July-August 2009 issue. The Slaney at Enniscorthy goes through a narrow defile – meaning in practical terms that buildings and roads climb and cling to hillsides and make for an energetic exploration – except for gentle riverside walks on both banks.
Follow signposts to National 1798 Visitor Center on edge of town to find out why Enniscorthy has an iconic position in annals of freedom of Ireland. Then go back to the center of town and park your car by river – it being very much easier to walk than to drive in this town. The splendidly restored castle – rebuilt in 19th century and restored once more in 2011 – offers conducted tours and a marvelous view from roof walk. Our trip ends across river at 1798 memorial just below summit of Vinegar Hill. A steep road from river bank leads to rebel stronghold and a wonderful view of town and surrounding country. At bottom of hill decide whether to return to Dublin by very beautiful main road or to go south for further joys of County Wexford.