Treat yourself or somebody else to the gift of Ireland this St Patrick's Day with a subscription to Ireland of the Welcomes
Celebrate all things Irish by having Ireland of the Welcomes delivered directly to your door for just $33.
Beloved by generations of readers, Ireland of the Welcomes is the largest and longest-running Irish interest magazine in the world. Produced in Ireland by a team of top writers and award-winning photographers, each issue features lavishly-illustrated pieces on Irish beauty spots, its rich culture and millennia-spanning history.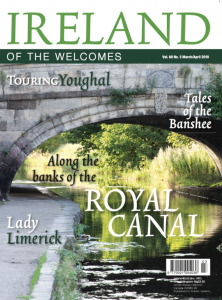 What can you expect?
6 beautifully illustrated magazines per year filled with articles on expert content and high end imagery, focused on
● Breathtaking scenery
● Culture and customs
● Castles and gardens
● Music and myths
● People and places
How do I order?
It's as easy as clicking here