After these diversions we are ready to scale slopes of Slieve Gullion itself. Go northwards parallel to railway embankment, turn left at next crossroads and right when you pass church at Drumintee, following road B113. After a mile a big signboard on left welcomes you to Slieve Gullion Forest Park and Courtyard. Take a rest and a wander around grounds attached to splendid stone farm offices and stable yard built in 1840s. Restored and transformed to life as a park administration and information center, it also contains a restaurant.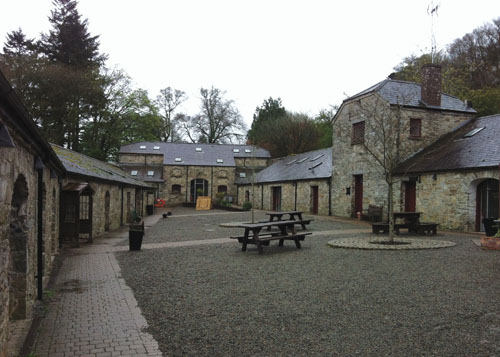 If you are bursting with energy and fitness, you may find a track to summit of mountain – specially recommended as site of highest stone-age Passage Grave in Ireland. Otherwise turn left at exit to car park to embark on perfectly wonderful mountain drive, a well-built road but so narrow that you are allowed to go in one direction only. Setting off amongst stately pine trees, it winds its way higher and higher, leaves woodland and climbs through a landscape of boulders and heather, and offering incomparable views of a very substantial chunk of Ireland.
Back on lower slopes, continue northwards to visit ancient monastic foundation of Killevy. Go down hill opposite to its entrance, across crossroads and follow road to viewing spot high on slopes of Ballymacdermot Mountain. As well as a noble panorama that includes Mountains of Mourne, road takes you to a very fine specimen of a Court Tomb, a stoneage construction that may pre-date Passage Graves by a thousand years. Go back towards west and then head north when you meet long, narrow lake called Camlough. In village of same name you may enjoy some of best potato chips cooked in Ireland, and also see one of politically inspired wall-paintings that grace gable ends of many Ulster buildings.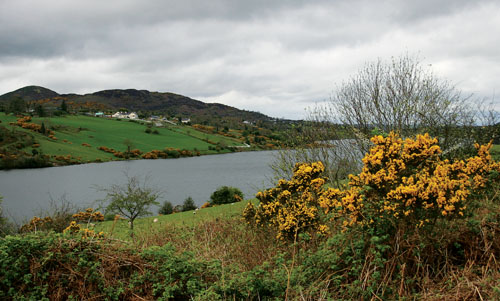 Two miles due north of Camlough is our final stopping place, a settlement as far removed from mountain slopes and farms of our trip as can be imagined. It is village of Bessbrook, where water from a millpond provided power for a great 19th century linen mill. Far from satanic, Bessbrook mill was owned by Quaker Richardson family. They believed passionately in welfare of their employees and provided them with well-built and comfortable houses, each with a large garden so that they could produce their own vegetables. The village lacked only pubs, pawnshops and police, Richardsons believing that alcohol and money-lending were root causes of problems that demanded policing in other communities.
On outskirts of village Quaker Meeting House stands surrounded by neatly marked graves of generations of past worshippers. Turn left when you leave Meeting House and look out for entrance to Derrymore House. A National Trust property, it is usually open to visitors, but even when closed is worth looking at: an 18th century thatched 'cottage' on an enormous scale set in beautiful parkland.