The Taoiseach (prime minister) of day, Charles J. Haughey, visited and unveiled a plaque heralding rebirth of Cill Rialaig as a sanctuary for artists of Ireland and world in September 1991. He said of it, "new Cill Rialaig will make a great sound in world one day". Twenty years later project (despite not having a website) has grown in stature and respect throughout international artist community. Part funded by Arts Council, there is still a major requirement for annual funds. Cill Rialaig means "church of regulars" according to Irish writer Desmond Fennell, owing to its early connection with Canon Regulars who made Skellig Micheal their home and haven.
Seven houses have been rebuilt (by award-winning architect Alfred Cochrane) as self-catering artist studios – exteriors remaining faithful to earlier vernacular architecture, stone and thatch and some slate from nearby Valentia quarry. A meeting or communal house called Tig An Comhrá (house of conversation) was unveiled by President, Mary McAleese, in 2009. Over 2,500 free of charge residencies have been given to Irish artists and artists from across globe. More than 150 U.S. based artists have already found their way there. Founder Dr. Noelle Campbell Sharp wants non-commercial ethos to remain, as she feels that "creative spirit soars in that environment, a place to escape to for tranquility and away from stresses of society". That's one reason she and some of her colleagues from Cill Rialaig visited New York in June with help of Culture Ireland to invite leaders of philanthropic organisations with a specific interest in culture and arts to listen to story of Cill Rialaig and join with her in securing future of its project.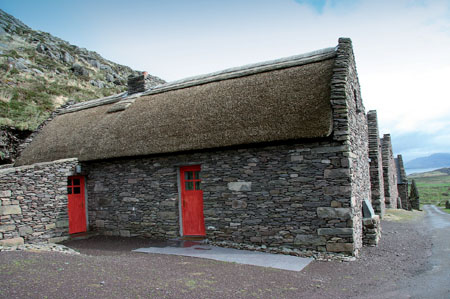 As it happens, visit under Imagine Ireland umbrella coincides with an impressive New York exhibition entitled A Desert in Ocean- a View from Cill Rialaig at Lesley Heller Gallery. This unique exhibition has resulted from visit of 12 U.S. based artists to remote Irish retreat last year. There they met, lived and worked alongside six Irish artists. All of them made an etching at Cló Cill Rialaig – project's fine printmaking studio in Ballinskelligs. These will also be on show at Heller gallery with half proceeds going to project. The exhibition, opening on June 30th, runs for July and August. In meantime, project welcomes applications from professional artists in U.S. who may want a residency at retreat. Selection takes place three times a year and there is a small application fee.
Details from cillrialaigarts@gmail.com.