This nearly proved Moore's undoing, however, for he quickly became bored with his posting, and instead toured North America, where he met President Thomas Jefferson, before returning to London, leaving a deputy in his place. In 1811 Moore married Bessy Dyke, an actress he met in Kilkenny, and they had two daughters, both of whom died as infants. Then he learned his deputy in Bermuda had absconded, leaving a huge debt. Moore was responsible in law for it, but could not pay, so he fled to Europe to avoid jail.
"The unique effect of Melodies and Moore's poetic genius can be attributed, in part, to music he chose.",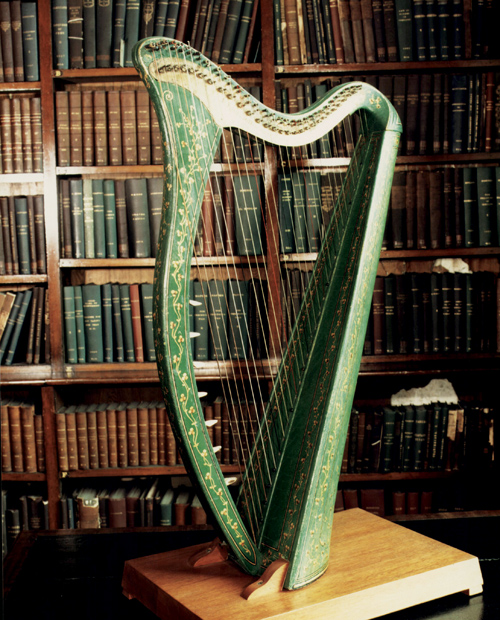 He was helped financially by Lord Byron, and after several years spent mainly in Paris, was able to return to England. His pen was always active; as well as Melodies, he wrote biographies of playwright Richard Brinsley Sheridan and United Irish rebel Lord Edward Fitzgerald. To repay kindness of Byron, he wrote a celebration of that poet's life, and also classic historical fiction, Memoirs of Captain Rock, described as 'a funny and scathing indictment of English misrule and Irish misdeeds', which sold widely. Sadly, personal tragedy continued in his life. His and Bessy's third daughter died, and then their two young sons, both soldiers, also died; effect apparently was to shorten Moore's life, and he died at his home in Wiltshire in 1852. His family grave is marked with a high Celtic cross, on which is inscribed Byron's words: "The poet of all circles and idol of his own." Also inscribed on cross are lines from one of Melodies: Dear Harp of my country! In darkness I found thee, The cold chains of silence had hung o'er thee long, When proudly, my own island harp, I unbound thee, And gave all thy chords to light, freedom and song. As is well known and recorded, harp was central to Moore's work and muse. He was given a Royal Portable Harp, painted in green with an interlaced decorative pattern of gold shamrocks, by renowned Irish harp-maker John Egan, which he played to accompany his singing. As Nancy Hurrell notes in booklet, "Two hundred years ago, Thomas Moore contributed to revival of ancient Irish music with his poetry in Irish melodies.
At same time, John Egan revived Irish harp with his new harp models, including his Royal Portable Harp, an important contribution to continuation of harp tradition in Ireland." In more recent times, Nana Simone and Nana Mouskouri both recorded The Last Rose of Summer in 1960s; Corrs released an instrumental version of The Minstrel Boy in 1995; song was performed by U2 on their 1997 tour; and Joe Strummer, formerly of Clash, did a version in 2001 and another version for hit movie Black Hawk Down same year. And there are those who believe that we have not heard last of Moore's melodies.