Keep to left and coast road after Naran and cross Gweebarra River by remarkable concrete bridge that spans it. A little farther on there is a car park which allows you to climb to Mass Rock, one of many open air altars which were only places where Mass could be said during worst of Penal times. Signposts show way to Cloghán Liath (pronounced Klug-an Lee-ah), offi cial name of small town better known in song as Dungloe. The region is part of Donegal Gaelteacht (Gayl-tokt) where Irish is spoken by many people and where English names are not permitted on signposts. The song and fair maiden of name are celebrated by an annual Mary of Dungloe festival in month of August.
The R259 road leads around Rosses, passing by old fi shing harbour of Burtonport where you may take a ferry to nearby Arranmore Island. It then takes you northwards past Donegal Airport and westwards to foot of Errigal, one of most splendid of all Ireland's mountains. When you come in sight of beautiful Lough Nacung you turn north for Gortahork and another little harbour at Meenlaragh. This one is ferryport for mysterious low-lying island of Tory.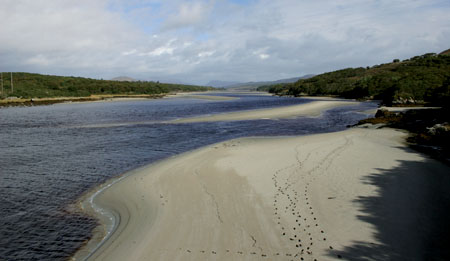 Bloody Foreland is signposted and, just after highest point on road overlooking it, you may rest at a welcoming car park and enjoy one of very best of all of views on our trip. The 'bloody' is not a rude word, but a polite reference to colour of rocks there. It is neither most northerly nor westerly part of Ireland – but claims fame as northwest corner of country. The view is of a long, low headland sloping gently towards ocean with a foreground of prosperous-looking white houses contrasting with green pastures divided by ancient stone walls.
Head back towards Ardara by what is officially main road, though scarcely a highway. Turn left after re-crossing Gweebarra River to visit marvellously hilly village of Glenties. It has a small museum and a large and exceptionally beautiful modern church, decorated with beautiful sculptures large and small by some of Ireland's most talented artists.
That circuit makes a comfortable day's driving – but there is much more to see around Ardara. Near foot of Slievetooey lies Townland of Maghera and some of most spectacular but least known pieces of landscape of Ireland. To reach them you follow briefl y N56 towards Killybegs and take second turn to right. The road is an extremely narrow one that leads away into mountains and ultimately to remote valley of Glencolumbkille.