But we will leave most of that for another day and content ourselves with first eight miles (12 kilometers) that go along south shore of Loughros Beg Bay. After six miles you stop to admire one of fi nest – and most easily accessible – of Ireland's waterfalls, where cascade seems to descend from sky down to form a calm, clear pool before it runs away to sea. Then stop at car park in Maghera itself. A boardwalk leads off through dunes which, again, call for superlatives: seemingly endless hills of purest silver sand. They lead to a series of sea caves, short tunnels in incredibly contorted and shattered rock which, for good measure, happens to be some of most ancient in Ireland.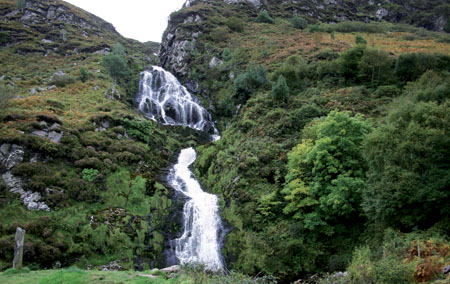 Where you re-enter Ardara two great temptations welcome you. On right is modern church with a splendid rose window. The glass is work of Evie Hone, 20th century artist who brought brilliant colour and light to many of Ireland's churches. On left is Triona Design which is very much more than a saleroom for best of Irish tweed and knitwear and jewelry. You will be able to browse in good time, but not staff have enticed you to come and watch weaver at work and explain intricacies of his age-old craft. David weaver is proprietor of business and belongs to fifth generation to follow this time-honoured craft. If he can spare a moment he will share his immense knowledge of history of Donegal tweed and its background of rural tradition.
Then take R241 towards north for four miles (six kilometers) to tiny village of Kilclooney. The greater part of its area is occupied by a car park lying in front of Dolmen Centre, an excellent modern exhibition hall. From car park, walk across little green bridge and up grassy path into heather. There a rough track takes you southwards for half a mile to one of most impressive of all of these stone-age monuments. It has stood there on skyline inspiring awe amongst countless generations in course of five thousand years from when it was built.
That was just a small slice of this county where you should either stay for a long time or come back to visit again and again. It is just three and a half hours drive from Dublin's fair city.