On Tuesday 5th March, Bridget was suffering from an illness, possibly pneumonia. For three days Michael Cleary and his father-in law along with Mary Kennedy and Johanna Burke, Bridget's aunt and cousin, nursed Bridget who deteriorated considerably. A doctor visited but he did not take her condition seriously which angered Michael Cleary. A local priest gave Bridget last rites. Eventually, Michael described in a written statement after event that he consulted with Denis Ganey, a fairy doctor. One of Ganey's cures was first milk given by a cow after calving which was known as 'beestings' or 'beastlings'. This was supposedly particularly attractive to fairies.
Claiming they were conducting a treatment to bring Bridget back, Michael Cleary, assisted by Bridget's four cousins and father, touched Bridget with a hot poker, drenched her with urine, and forced her to drink Ganey's concoctions of herbs in milk. They also held her over kitchen fire asking insistently whether she was in fact Bridget Cleary, or a fairy changeling. (The idea of a changeling was popular locally and features in Celtic and other Western European ancient folklore. It is offspring of a fairy or other magical creature, which has been secretly left in place of a human child or adult.)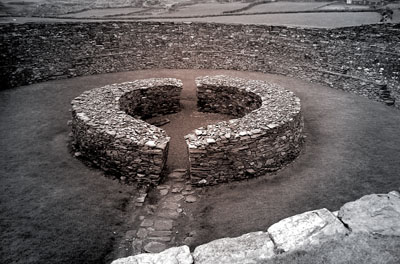 A magisterial inquiry on Cleary case which began on 25th March was told that treatment Bridget had received was part of a traditional cure for fairy abduction and was considered to have succeeded. However, sometime after midnight on Friday, March 15th Michael flung his wife on floor before fire, brandished a piece of burning wood before her mouth and demanded that she say her name three times. When she failed to do so to his satisfaction, he doused her with lamp oil and set her ablaze. Later, Michael Cleary and one of Bridget's cousins carried her charred remains wrapped in a sheet about a quarter of a mile uphill from cottage to a shallow grave. They covered body with soil and branches. It was later found by a police search party a week later.
The Cleary murder case ran from 1st April to 6th April, 1895. On 5th July same year Michael Cleary was convicted and found guilty of manslaughter. He served 15 years in Maryborough Prison. He was released on April 28th, 1910, after which he went to Liverpool and later to Montreal in Canada. The best known documentation of Bridget Cleary's death was by Angela Bourke in The Burning of Bridget Cleary, (1999). In April 2005 Irish playwright Tom McIntyre's play What Happened Bridgie Cleary opened in Peacock Theatre in Dublin. The funeral of Bridget Cleary was said to have taken place at night on Wednesday, 27th March. No civilian attended and body was transported in an ordinary car. She did not receive a funeral mass and body was conveyed to Roman Catholic burial place of Cloneen.
Ar dheis Dé do raibh a anam.
'May her soul be at right of God.'
– Leonie O'Hara