Once upon a time, Youghal was premier port of Ireland, dealing with a greater volume of trade even than Dublin. But those days passed away when ships grew too big for shallow waters of bay. Today its waterfront is preserve of a variety of pleasure craft. Visit excellent Information Center beside southern of two little harbors and get a map of town. Across road from Center gable end of pub has a truly splendid mural with a romantic picture of a whaling ship and crew. The pub was re-named Moby Dick in commemoration of transformation of Youghal to New England port of New Bedford by John Huston when he filmed Melville's story there in 1954.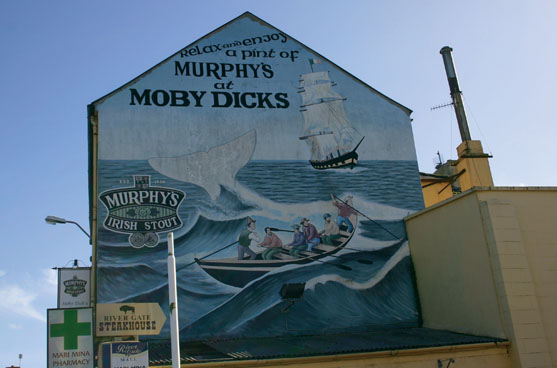 We wandered through town, under Clock Gate, built in 18th century as gaol-house, no doubt keeping population very well aware of risks of criminal behaviour. A little farther along, Red House provided a good lunch in one of spacious courtyards that hide behind narrow streets. Close by is Tynte's Castle, home of Elizabeth, widow of Edmund Spenser and muse for his most beautiful poem, Epithalamion. From this old stone castle we walked up hill to St. Mary's Collegiate Church. Walking anywhere in Youghal brings you past countless houses and castles and bits of wall that have been in use since medieval times. Few towns in Ireland can equal its atmosphere of times long gone.
Added to from time to time and still very much in use, St. Mary's church makes a fair claim to be one of oldest places of unbroken worship in Ireland. Like town itself, it has a special air of antiquity. Within its stone walls and beneath old roof beams great events of lives of citizens have been celebrated and prayed for over seven hundred years – as they still are.

If you are in search of something more solid than indefinable air of sanctity, don't miss memorial to entrepreneur Richard Boyle, ennobled as First Earl of Cork. In his Elizabethan clothes, he lies between effigies of his two wives and above little statues of his ten children. Close to church is Myrtle Grove, reputed to have been Sir Walter Raleigh's residence for a while. If you go north from Youghal you have possibility of following estuary of Blackwater as it wanders through ancient woodland. But that would be another day's trip. If you go south, you might visit incredible Youghal strand which extends for no less than three miles (5 km). Sixteen miles through Castlemartyr and Ladysbridge will bring you back to Ballymaloe.